---
Documentation of Machine Quality Assurance (QA) data and procedures can be time consuming, extensive, and unclearly arranged. Daily linac performance measurements followed by monthly and annual QA, Imaging, VMAT and MLC QA tasks increase the amount of data that has to be organized and managed by physicists in radiotherapy departments.
The independent Quality Management Platform SunCHECK™ integrates all Patient QA phases and Machine QA in a single web-based application, accessible from any networked computer. SunCHECK enables clearly structured and complete Machine QA. Automated processes ensure significant efficiency gains, and a streamlined workflow within the clinic, or even across sites, reduces machine failures and increases machine uptime through trending capabilities. For this reason, over 1,000 users rely on Sun Nuclear's SunCHECK solution.
To create QA templates to a specific need, flexible customization tools are integrated in SunCHECK™ Machine allowing for the incorporation of every machine QA procedure. Task instructions, definition of setup parameters, setup/execution files and custom calculations can be added to every task. With these functionalities included, there is no further need for additional databases or file locations, separate calculations, or documentation tools, since all machine QA data is managed within one streamlined application.
There is a great variety of regional QA standards, the implementation of which has been a challenging enterprise for providers of QA software. As an example, the German DIN protocol is unique by providing users elaborate room for adaption, resulting in various locally different interpretations of the same DIN task.
The ability to customize QA tasks and share custom QA templates among peers allows users to adapt SunCHECK Machine to their specific needs. While SunCHECK users in Germany now benefit from DIN protocol support, including more than 85 tasks, these newly implemented customization functionalities allow compatibility and compliance with regional QA standards in addition to pre-defined TG-142 templates. In combination with custom report functionality, manageable machine QA is becoming easier than ever before.
Figure 1. The Custom Math feature enables calculations in every QA task where needed, ultimately eliminating the need of additional documentation or calculation tools to process measured data.
Customers have found that using SunCHECK has resulted in significant time savings, including soon-to-be published research highlighting how SunCHECK has saved nearly two hours in one department's monthly imaging tests alone.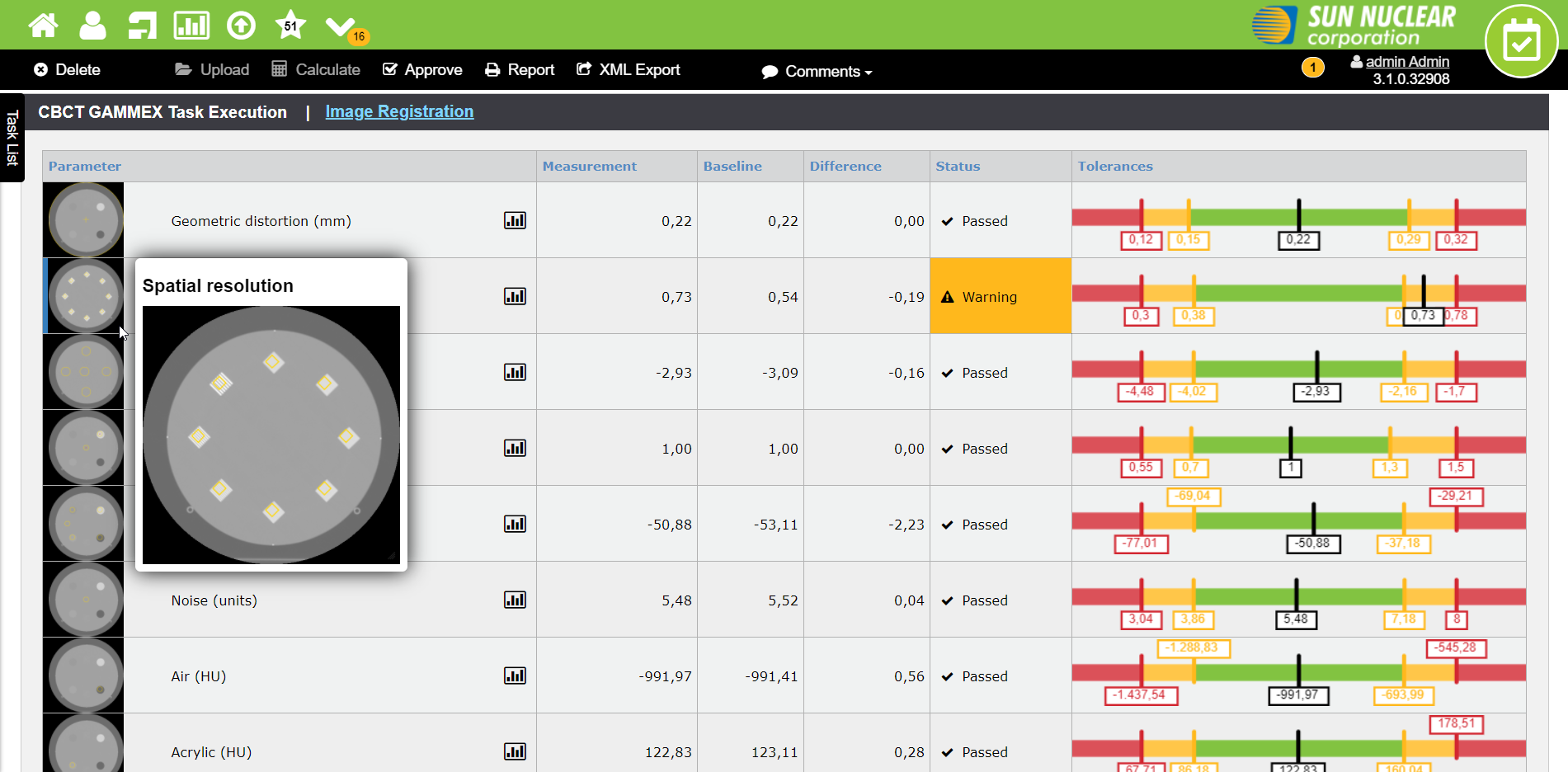 Figure 2. Display of CBCT Task Execution in SunCHECK Machine. Automated image retrieval, registration, and analysis ensure efficient and objectified imaging, VMAT and MLC QA.
The latest version 3.2 software release brings 50+ feature enhancements. For Patient QA, advancements for secondary dose calculations for photons, electrons and brachytherapy plans are included in the new release, in addition to API connectivity. For Machine QA, further DIN-specific imaging and MLC tasks expand the DIN support in addition to the ability to share templates with other users.

For detailed information, publications, or a demo request, visit sunnuclear.com/suncheck.
About the Author
Julia Kirchhefer, M.Sc. Medical Physics, is a Medical Applications Physicist in the team of Sun Nuclear, the leader in Quality Management solutions for Radiation Therapy and Diagnostic Imaging. She works closely with customers in Germany and Austria to help guide them through clinical application of Sun Nuclear's solutions. Before joining Sun Nuclear, Julia obtained a bachelor's and master's degree in Medical Physics at the Technical University of Dortmund in collaboration with the Institute for Radiation Protection and Medical Physics at the clinic in Dortmund.
This article was originally published in the European Federation of Organisations for Medical Physics (EFOMP) Summer 2021 Newsletter. Find the full newsletter here.